APPAREL

Athletic wear perfect for training day, or everyday.
APPAREL
Athletic wear perfect for training day, or everyday.
SHOP NOW
Testimonials
After elbow surgery I kept the incision clean and covered with a Titanium Care gauze pad and a linen roller bandage. The area healed significantly quicker than expected and stitches were removed 4 days early.

Gary Y.
The long sleeve shirt is perfect for athletic activity - by itself when it's hot or under a coat when it's chilly. Doesn't stick to skin and helps keep me comfortable and dry.

Amber G.
My chronic lower back pain is significantly reduced when I wrap the lap blanket around my torso in bed, or while reading in my chair. Not sure how it works, but there is always a noticeable difference.

Leslie B.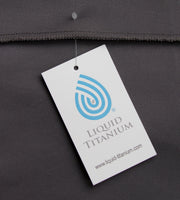 LIQUID TITANIUM EFFECTS ON THE BODY
Far-Infared Rays (FIR) are a well recognized healing energy source. FIR are not only present in the atmosphere, but are simultaneously released from the body. Research has established titanium as an enhancer in the process of delivering FIR to the body. The key to Titanium Wear & Care's fabric is the therapeutic power of infused titanium. This fabric reabsorbs the FIR coming from the body reemitting them and performing as a healing enhancer. This promotes the body's natural ability to heal, stay healthy, improve metabolism, reduce inflammation and control the body's temperature.
Learn More